The great thing about caramelised lentil pilaf this dish is that it is vegan, healthy, and easy to make. It's the perfect dish for anyone looking to eat less meat.  It's packed with protein and it's also easy to prepare. Enjoy it hot or cold, with a bowl of fresh Super herb salad or a refreshing Yogurt cucumber salad. This dish also makes the perfect picnic food. It's cheap, hearty, delicious, high in fiber, and super filling. I really hope you give this a go and if you do and have leftovers,  you must combine it with cauliflower – Lentil and Herb baked cauliflower drizzled with a yogurt tahini sauce. Absolutely delicious!
Ingredients
1 cup whole red lentils
5 cups of water
⅓ cup olive oil
4 onions finely chopped
½ cup cracked wheat (coarse)
Salt to season
Cook's Note
*Whole red lentils are not red in colour. What's the difference
*The colour and flavour of the dish heavily rely on the caramelisation of the onions.
*Overcooking the lentils will result in a mushy dish.
*Visually inspect the lentils for any small stones and it's always best to give lentils a rinse before cooking to eliminate any dirt.
*You can also use a food processor to chop your onion. Pulse the onion until finely chopped but not wet.
Step 1.
Add lentils to 5 cups of salted boiling water.  Cook over medium to low heat for approximately 20-25 minutes or until lentils are cooked but not soft.  Drain and reserve the liquid.
Step 2.
While lentils are cooking, prepare the onion;  Combine oil and onion over medium heat and cook approximately 20-25 minutes stirring every now and then until they turn very dark brown but not burnt. Remember the success of this dish lies in this step.
Step 3.
Reduce heat to low, add 1 ½ cups of the reserved liquid to the onion and let it simmer for 2 minutes.  Season with salt.
Add the cooked lentils, coarse cracked wheat, and stir to combine. Cover the pot with a lid and continue to cook over very low heat for approximately 20 minutes or until cooked.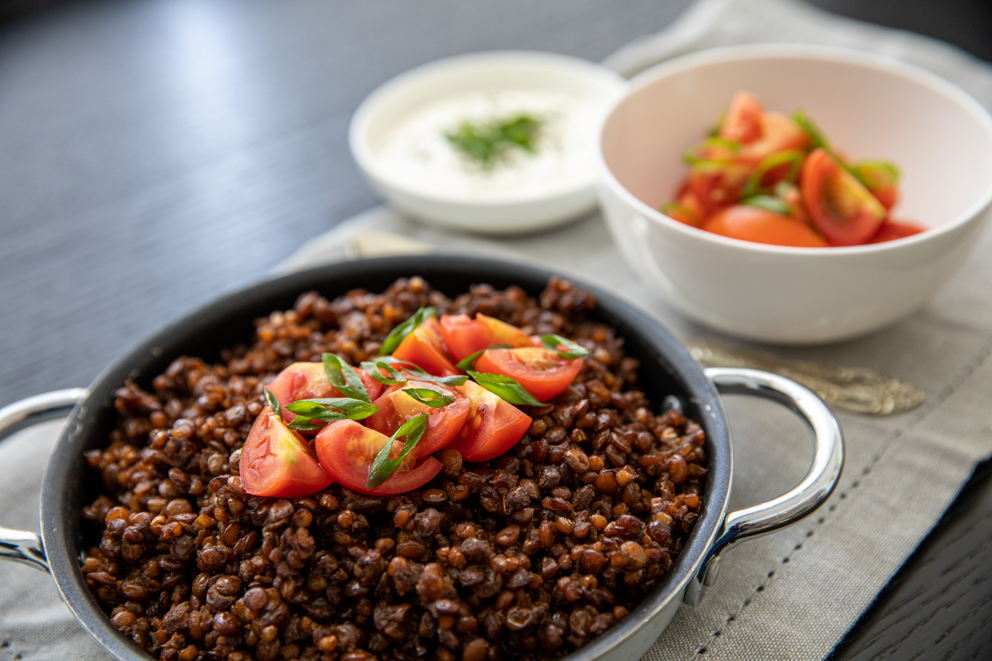 Serves 4-6
Lentil Pilaf

Easy Recipe

vegan friendly

cheap

delicious

high in fiber
Other lentil dishes you will love:
Lentil and spinach soup
Green beans and lentil salad
Lentil and Herb Baked Cauliflower
Sahtan – Enjoy In Good Health