Yogurt cucumber salad is incredibly simple to make, requiring only 4 simple ingredients. The combination of cucumber and yogurt is creamy and refreshing. The test here is to perfect the balance of all the ingredients.
This salad takes only five to ten minutes to prepare and pairs well with endless dishes such as meat, rice and legumes. I love mine on its own as a snack during warm summers days.
This may sound similar to the popular Greek tzatziki dip but I believe it's different. If you love yogurt, you won't get enough of this.
Ingredients
500 grams natural yogurt
1-2 cloves garlic
3-5 tablespoons cold water
salt to season
2 Lebanese cucumbers (seeds removed and diced)
1 tablespoon fresh mint finely chopped or 2 tablespoons of dried mint
1 tablespoon olive oil
Notes from Rouba
Method
Step 1. 
In a bowl, combine the natural yogurt with crushed garlic and salt. Whisk until smooth and creamy.
Step 2. 
Add in diced cucumber and mint and mix well. Serve and drizzle with olive oil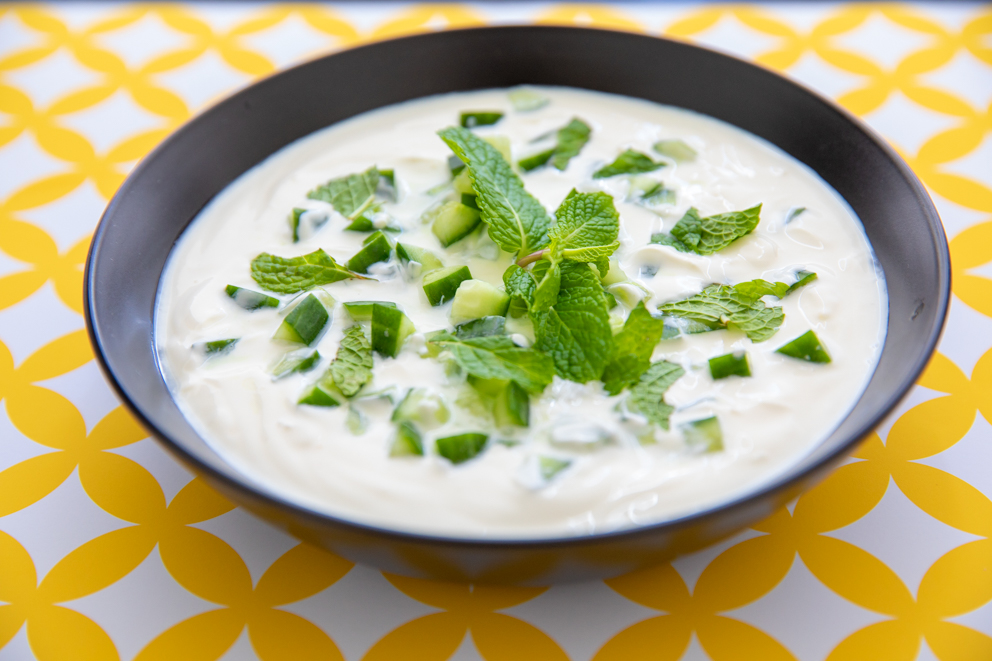 Servings: serves 4-6
Why you'll love this salad:
Refreshing
Vegetarian
Creamy
Fresh mint
Try this salad with herb char-grilled lamb back-strap, chickpea and eggplant rice, grilled lamb pitas, spicy Arabian nut rice.
Sahtan – Enjoy In Good Health