Chocolate dipped petit fours butter cookies are a melt-in-your-mouth sweet treat. I love looking at these cookies almost more than I love eating them. They keep well and are perfect for gifting.
These are classic cookies in the Middle East and taste even better when glued with jam, dipped in chocolate and sprinkled with nuts. You will almost always find them on my table when I'm entertaining.
This is an easy step-by-step recipe for you to create these delicious and pretty cookies.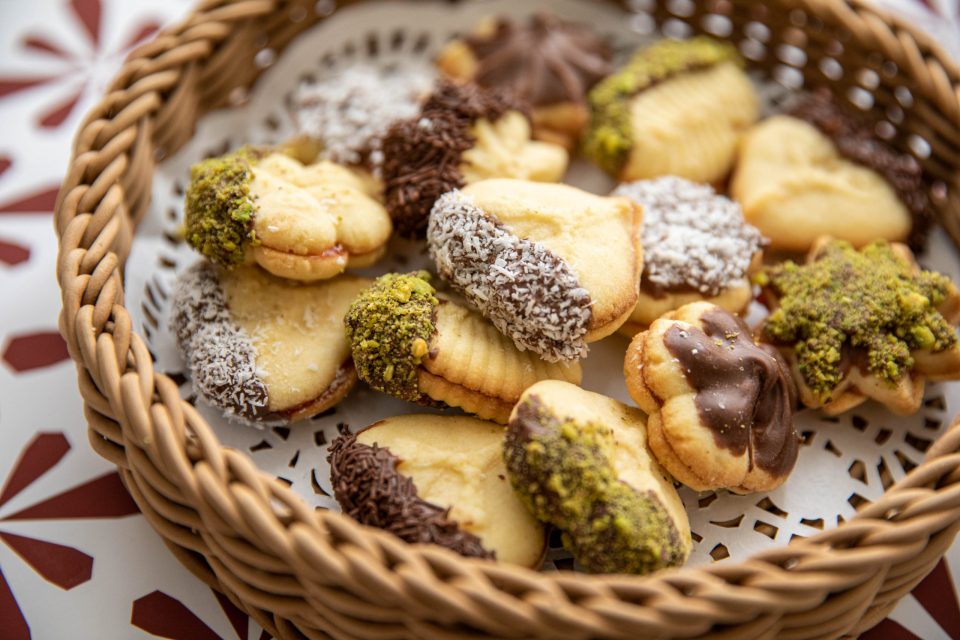 Ingredients
2 ½ cups plain flour
2 egg yolks
250 grams butter (unsalted) softened
¼ teaspoon vanilla sugar
1 cup icing sugar
jam (no fruit chunks)
chocolate melts
sprinkles, shredded coconut or pistachio to garnish
Notes from Rouba
You can pipe the dough through a piping bag fitted with a large star tip. Otherwise, get a baking tool similar to what I use here.
Depending on the weather, the dough can be too soft to use straight away, simply cover with plastic wrap and refrigerate for 10-20 minutes.
Add a small amount of milk to the dough to soften if need be.
Use any jam flavours for the filling.
Method
Step 1. 
Preheat the oven to 180° degrees. Line two baking sheets with non-stick paper.
Step 2.
In a bowl, combine all ingredients and mix well to form a dough.

Step 3.
Shape the dough using a baking tool. Otherwise, you can form small balls and press them lightly. Just make sure they are the same size. Bake in a preheated oven for approximately 8-10 minutes or until the edges are golden in colour. Leave on the tray to cool completely.
Step 4.
You can enjoy these cookies as is or make them tastier by gluing them together with any jam flavour you like. Soften the jam a little in the microwave, then simply spread it between two pieces and stick them together.
Dip in melted chocolate, then dip again in sprinkles, shredded coconut or finely ground pistachio and place on a non-stick paper to cool down.
Remember, these are made for sharing. One of the best things about baked goods is sharing them with family and friends over the festive season.
Servings: makes approximately 30-35 cookies
Sahtan – Enjoy In Good Health